AULORA Arm Sleeve with Kodenshi®
Product Description
Stability and consistency are everything when it comes to arms movement. Good support will bring out your best performance and best version. AULORA ARM SLEEVES are specially designed to help you to achieve the performance that you need in your daily tasks.
| Price | Code |
| --- | --- |
| (M) RP BND97.00 | A0600002 |
| (L) RP BND97.00 | A0600003 |
| (XL) RP BND97.00 | A0600004 |
Kodenshi® Fiber - Wellness beyond comfort
Using the state-of-the-art technology patented KODENSHI® fibre, AULORA ARM SLEEVES helps to regulate your body temperature to keep your well-being and performance at optimum level.
Ergonomic Spiral Compression Design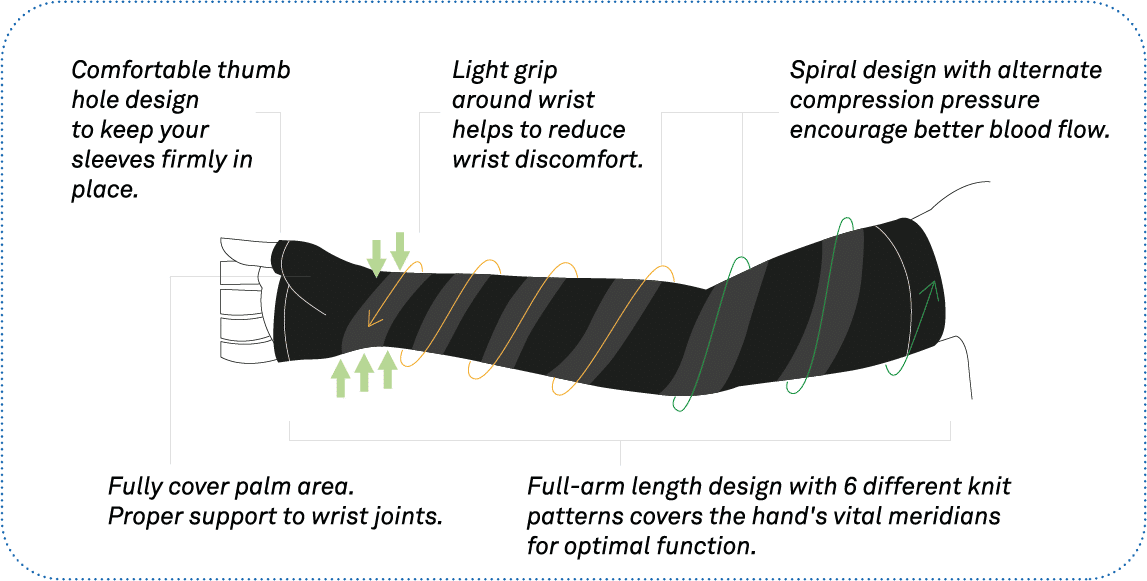 Stability support and better endurance
The Unique Spiral Compression Design supports energy flow and provides firmness to the arm muscle and hence gives the muscle energy for every movement.
AULORA ARM SLEEVES protect the skin from overexposure and reduce the risk of sunburns, wrinkles, spots and uneven skin tone during outdoor activities.
When Innovation meets fashion
Inno-fashion is becoming a part of lifestyle where innovation and fashion go hand in hand. Not only can it boost your daily energy level, now you can also enjoy stylish attire comfortably.
Recommended Size Measurement

Arm Sleeves Measurement* (Length)
* Tolerance within ±1.5cm. The measurement is based on actual product set size.
Frequently Asked Question
1. Washing AULORA Arm Sleeves with Kodenshi® Laundry Care Instruction
2. What is the material of Kodenshi® in AULORA Arm Sleeves made of?
The AULORA Arm Sleeves are made with 89.6% Kodenshi® Nylon, 9.7% Polyurethane and 0.7 Polyester.
3. The AULORA Arm Sleeves are tight, is that normal?
Make sure to wear a correct size, if you still find the spiral compression uncomfortable, do try one size bigger.
4. Can I wear the AULORA Arm Sleeves at night?
Yes. However, if you experience any uneasy tightness or discomfort, consult your health care provider.